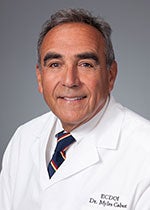 Research Professor
East Carolina Diabetes and Obesity Institute
115 Heart Drive, Greenville, NC 27834
Department of Biochemistry and Molecular Biology
Brody School of Medicine, East Carolina University
600 Moye Blvd, Greenville, NC 27834
phone: 252-737-5020
email: cabotm@ecu.edu
Education
B.S., Western Carolina University, 1970
M.A., Western Carolina University, 1972
Ph.D., The Hebrew University, Hadassah Medical School, Ein Karem, Jerusalem, Israel, 1976
Postdoctoral, 1976-1978, Damon Runyon-Walter Runyon Postdoctoral Fellow in Cancer Research, Oak Ridge Associated Universities, Oak Ridge National Laboratories, Oak Ridge, Tennessee
Dr. Cabot, a lipid biochemist and cancer cell biologist, has published extensively on the development and reversal of multidrug resistance in cancer. His investigations in chemotherapy resistance were acknowledged with the American Cancer Society's Science Writer's Award, 1999. He serves on numerous review panels including those of the National Institutes of Health, the NCI's Cancer Drug Development and Therapeutics (CDDT) Panel, Department of Defense (DoD) Breast Cancer Research Program, FDA – Modeling Cancer Risk Program, and the United States-Israel Binational Science Foundation. Collaborations – University of Virginia Cancer Center, Charlottesville; Penn State/Hershey Cancer Institute-Milton S. Hershey Medical Center; Georgia Institute of Technology; University of The Basque Country, Bilbao, Spain, and the Institute for Advanced Chemistry of Catalunya, Barcelona, Spain, on issues related to drug discovery and cancer therapy. In-house collaborations, aimed at understanding mitochondrial bioenergetics in chemotherapy resistant cancer: Drs. P. Darrell Neufer and Kelsey Fisher-Wellman (Dept. of Physiology, Brody School of Medicine, and the East Carolina Diabetes and Obesity Institute).
Clinical translational work – In collaboration with physicians and scientists at Los Angeles Children's Hospital and Texas Tech University, Lubbock, Cabot helped develop use of the Vitamin A analog, 4-HPR (fenretinide) that is currently being evaluated in Phase I/II clinical trials (CerRx) in adult lymphoma, adult solid tumors, and pediatric mixed tumors. In work with scientists and clinicians at UVA and Penn State/Hershey, Cabot contributed to development the Ceramide NanoLiposome (CNL) (Keystone Nano) that is in Phase I, FDA approved clinical trials in patients with advanced solid tumors that have failed conventional chemotherapy.
Research in Cabot's laboratory focuses on sphingolipid metabolism as it relates to cancer and targeted therapeutics. Sphingolipid metabolism is an area of cancer research that has risen to clinical prominence. This is because ceramide, the aliphatic backbone of sphingolipids, acts as a powerful tumor suppressor, whereas its glycosylated product, glucosylceramide, catalyzed by the enzyme glucosylceramide synthase (GCS), is anti-apoptotic and a biomarker of chemotherapy resistance, as discovered by Cabot and colleagues (Patent # 6,090,565). Ceramidase (acid ceramidase), another important sphingolipid enzyme regulator of cancer cell growth, has recently been identified as a candidate gene for development of new cancer diagnostics and touted as a therapeutic target in metastatic cancer. Like GCS, acid ceramidase dampens the tumor suppressor properties of ceramide via ceramide hydrolysis and leads to the generation of sphingosine 1-phosphate (catalyzed by sphingosine kinase, SPHK), a powerful cancer cell mitogen. Thus, sphingolipid metabolism is a dynamic process with complex orchestration, impact, and clinical application. Importantly, these enzymes are druggable targets. Current models – leukemia (AML); colorectal cancer. Other models – breast, ovarian, and prostate cancer, melanoma, neuroblastoma.
Current Support
NCI P01 CA171983
Selected Reviews
Morad SAF, Cabot MC. The Onus of Sphingolipid Enzymes in Cancer Drug Resistance. Adv Cancer Res. 2018;140:235-263.
Morad SAF, Cabot MC. Ceramide-orchestrated signaling in cancer cells. Nat Rev Cancer. Nature Publishing. 2013.
Senchenkov A, Litvak DA, Cabot MC. Targeting ceramide metabolism–a strategy for overcoming drug resistance. J Natl Cancer Inst. 2001.