News

Dr. Ruth Schwalbe was awarded a research grant from the National Institute of Health to study the roles of N-glycans on potassium channels. The three-year, $438,010 NIH grant GM129679 focuses on how modifications in branched N-glycan structures attached to the Kv3.1b voltage gated K+channel can alter neural excitability and organismal behavior. Her research could potentially open the door for glycan-based therapeutic options in altering neural electrical signaling.
---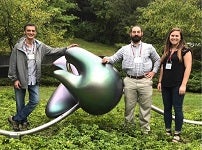 Cold Spring Harbor Laboratories (CSHL) featured one of our own ECU Biochem & Mol Biol PhD students, Mr. Hayden Huggins, in their online blog called "Current Exchange". Hayden attended the Germ Cells meeting on Long Island, NY, along with other members of the Keiper laboratory. He was chosen by CSHL publications staff from among several hundred students, postdocs, and faculty investigators. The interview focused on his NSF-funded research with Drs. Keiper and Lee, exciting findings at the Germ Cells conference, and his career directions. Hayden presented a poster entitled "mRNA cap-binding protein IFE-3 is critical for germ cell sex-determination in C. elegans" on day 2 of the 5 day conference. His findings suggest that oocytes and spermatocytes select certain mRNAs to seal their developmental fate through factor eIF4E, a part of the protein synthesis machinery in the germ cells from which gametes differentiate. The biannual CSHL Germ Cells meeting brings scientists from all over the world to present current molecular and cell biological discoveries in reproductive strategies of humans, mice, flies, fish, frogs, worms and several other model systems. You can read the complete interview with Hayden at Current Exchange.
---

Dr. Brett Keiper was awarded a research grant from the National Science Foundation to study protein synthesis in germ cells and embryos. The three-year, $635,000 NSF grant addresses how new proteins are made that differentiate cells as fetal development and gametogenesis proceed. Experiments will use transgenic C elegans (worms) as a model system to define roles in vivo for the mRNA translation factors (eIF4E and eIF4G). Recently there has been increased attention on RNA viruses such as Zika virus that infect gametes or embryos and disrupt mRNA regulation to cause microcephaly and other fetal abnormalities. The project involves collaborations at Lincoln Memorial Univ. and ECU's Dept of Internal Medicine, with a goal to model developmental defects as well as reproductive tract cancers and screen for ways to treat them.
---

Dr. Tonya Zeczycki received a $50,000,one-year grant from the American Parkinson's Disease Association to study how the conformations of alpha-synuclein, a protein responsible for plaque formation in the brain of patients with Parkinson's, are altered after post-translational modification by transglutaminase 2. The research supported by this grant will focus on determining why some modifications promote protein aggregation and plaque formation, while others have a protective, or anti-aggregation, effect. Her research could lead to novel and tractable therapeutics that force alpha-synuclein to adopt the aggregate-incompetent conformations.
---

Nathaniel (Nate) Fry, a PhD graduate student in the laboratory of Dr. Kyle Mansfield, recently published an article entitled "N6-methyladenosine is required for the hypoxic stabilization of specific mRNAs" that was highlighted on the cover of the journal RNA.
---

Matthew R. MacDougall, of Dr. Myles Cabot's lab, East Carolina Diabetes and Obesity Institute, and the Department of Biochemistry & Molecular Biology, Brody School of Medicine, presented a talk, entitled "Alterations in Sphingolipid Metabolism Attribute to Resistance to Cornerstone AML Therapies" on September 10, 2017, at the XII International meeting of the Sphingolipid Club (SLC), Trabia (Sicily, Italy). The SLC was founded in October 2001, by a group of Italian scientists with the idea to bring together researchers interested in sphingolipid biology, biochemistry, chemistry, pathophysiology, and clinical aspects. The meeting has since grown in breadth and scope and is now attended by scientists and physicians from around the world. For his talk, Matthew received a Young Scientist Award, which was especially notable, as he was in competition with PhD students and postdoctoral scholars. Mathew has a BS degree in Chemistry from UNC, Pembroke, and has been working in Cabot's lab since 2014, collaborating with groups at UVA Cancer Center and Penn State Hershey Cancer Center, on chemotherapy resistance in AML (acute myeloid leukemia). We congratulate Matt for this outstanding achievement and for representing the ECU medical research community with the highest of standards.