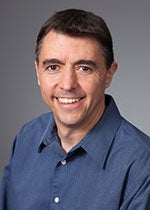 Associate Professor
Brody 5S-12
The Brody School of Medicine at East Carolina University
Greenville, NC 27834
phone: 252-744-5519
email: mansfieldk@ecu.edu
Education
B.S., Ursinus College, 1994
Ph.D., University of Pennsylvania, 2005
Postdoctoral Fellowship, Duke University
Research Interests
N6-methyladenosine (m6A) modification of mRNA
Role of m6A-mediated posttranscriptional regulation during cancer progression
Effect of Hypoxia on cellular function and gene expression
RNA Binding Proteins and their mRNA targets
Role of m6A in cancer progression and the hypoxic response
The Mansfield lab currently has two main areas of research focusing on posttranscriptional regulation by the mRNA modification N6-methyladenosine (m6A). m6A modification of mRNA has received renewed interest in recent years due to its ability to affect mRNA fate (stability, translation, splicing, localization) and therefore drive gene expression changes that impact cellular functions and underly disease phenotypes.
Role of m6A in Breast Cancer Progression (ACS grant funded)
Our current main area of interest focusses on the role of m6A mRNA modification in breast cancer progression. Using a genetically defined tissue culture model, we have shown that m6A levels change during breast cancer progression and that manipulating m6A levels can impact the phenotype of breast cancer cells in a stage-specific manner. Current projects include identifying the mRNAs affected, determining the mechanism by which m6A alters gene expression to affect the phenotype changes, and again identifying the m6A RNA binding proteins involved.
METTL16 Regulation and Function
We also have a long-standing interest in a specific RNA methyltransferase, METTL16.  Compared to the more widely studied METTL3/14 complex, METTL16's role in the cell is not well established and we are exploring many aspects of METTL16's function though directed mutations of various domains.  This work is ongoing and includes not only the role of METTL16 in breast cancer development but also the hypoxic response, and cellular senescence.
Cellular Posttranscriptional Response to Hypoxia
Our third area of interest is the cellular posttranscriptional response to hypoxia.  We have shown that during hypoxic/hypoglycemic conditions, a specific subset of mRNA is stabilized.  We have shown m6A, through METTL3/14, is involved and are now working to identify the specific mechanism by which this occurs.  In addition, we are also very interested in the m6A RNA binding proteins that are mediating the effect and the mechanism by which they act.
Overall, we anticipate that better understanding of the cellular roles of m6A in regulating posttranscriptional events in both hypoxia and cellular transformation will lead to development of novel therapeutic approaches for cancer and other diseases that involve cellular hypoxia.
Selected Publications
Talic ES, Wooten A, Zeczycki TN, Mansfield KD. RNA Methyltransferase METTL16's Protein Domains Have Differential Functional Effects on Cell Processes. Curr Issues Mol Biol. 2023 Jun 29;45(7):5460-5480.
Satterwhite ER, Mansfield KD. RNA methyltransferase METTL16: Targets and function. Wiley Interdiscip Rev RNA. 2022 Mar;13(2):e1681.
Nance DJ, Satterwhite ER, Bhaskar B, Misra S, Carraway KR, Mansfield KD. Characterization of METTL16 as a cytoplasmic RNA binding protein. PLoS One. 2020;15(1):e0227647.
Fortenbery GW, Sarathy B, Carraway KR, Mansfield KD. Hypoxic stabilization of mRNA is HIF-independent but requires mtROS. Cell Mol Biol Lett. 2018;23:48.
Fry NJ, Law BA, Ilkayeva OR, Carraway KR, Holley CL, Mansfield KD. N(6)-methyladenosine contributes to cellular phenotype in a genetically-defined model of breast cancer progression. Oncotarget. 2018 Jul 27;9(58):31231-31243.
Fry NJ, Law BA, Ilkayeva OR, Holley CL, Mansfield KD. N(6)-methyladenosine is required for the hypoxic stabilization of specific mRNAs. RNA. 2017 Sep;23(9):1444-1455.
Carraway KR, Johnson EM, Kauffmann TC, Fry NJ, Mansfield KD. Hypoxia and Hypoglycemia synergistically regulate mRNA stability. RNA Biol. 2017 Jul 3;14(7):938-951.
View complete, up-to-date list of publications
Recently Funded Projects
Role of N6-methyladenosine mRNA modification in breast cancer progression; American Cancer Society Research Scholar Grant; 7/1/2019 through 12/30/2023.
Regulation of the Vascular Growth Response to Ischemia/Hypoxia by Acid-Sensing GPR68; 2023 Brody Brothers Endowment Award; 1/1/2023 through 12/31/2023. Tulis, PI; Mansfield, Co-PI.