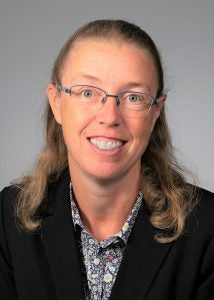 Professor, Biochemistry and Molecular Biology
Brody 5S-26
The Brody School of Medicine at East Carolina University
Greenville, NC 27834
phone: 252-744-2404
email: kosterma20@ecu.edu
Education
MS, Medical Biology, VU University, Amsterdam, The Netherlands, 1999
PhD, Developmental Biology, Baylor College of Medicine, Houston, TX , 2004
Postdoctoral Fellowship, Baylor College of Medicine, Houston, TX
Research
Research in my laboratory is aimed at understanding the role of the transcription factor TP63 in the skin and cornea.  Our lab has previously shown that TP63 is essential for the morphogenesis and maintenance of these tissues.  In addition, mutations in TP63 lead to severe skin and cornea erosions in patients affected by a subset of genetic disorders (ectodermal dysplasias).  Our research is focused on identifying the cellular and molecular mechanisms by which TP63 controls normal keratinocyte biology, as well as on the pathological mechanisms by which mutant TP63 impairs these mechanisms.  One of our current projects is focused on the transcriptional mechanisms by which TP63 controls expression of important keratinocyte genes, and the mechanisms by which mutant TP63 disrupts the expression of these genes.  Examples of genes we are currently including in our studies are genes involved in stem cell behavior, cell adhesion, and keratinocyte differentiation.  We also investigate the cellular consequences of expression of disease-causing TP63 proteins, for example on cell migration and adhesion.  To identify these mechanisms, we use stem cell-based 2D and 3D in vitro models combined with a broad range of molecular and cellular biology tools and techniques.  All ongoing projects offer opportunities for trainees from the undergraduate to postdoctoral level.
Publications
My Bibliography – NCBI: https://www.ncbi.nlm.nih.gov/sites/myncbi/1hoPjA9IL3y/bibliography/40882000/public/?sortby=pubDate&sdirection=descending
Current Funding
R01 AR072621 (NIH/NIAMS) "Mechanisms underlying tissue fragility in ectodermal dysplasias"
The goal of this grant is to define molecular mechanisms by which mutant TP63 proteins cause tissue fragility in ectodermal dysplasias.
Staff and Students