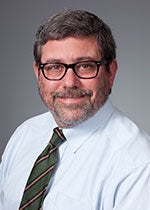 Associate Professor
Brody 5W-52
The Brody School of Medicine at East Carolina University
Greenville, NC 27834
phone: 252-744-5096
email: shewchukb@ecu.edu
Education
B.S., Rochester Institute of Technology, 1991
Ph.D., Pennsylvania State University, 1997
Postdoctoral fellowship, University of Pennsylvania
Research Interests
Molecular Biology of gene regulation
Chromatin structure and modification
Epigenetic processes in disease
Selected Publications
Shaikh, S., P. Shaver and B. Shewchuk (2018) High fat diet dysregulates hypothalamic-pituitary axis gene expression levels which are differentially rescued by EPA and DHA ethyl esters. Molecular Nutrition and Food Research doi.org/10.1002/mnfr.201800219
Wang, L., S. DeMarco, M. Sanderson, A. Maiorana-Boutilier, J. Chen, M. Crouch, B. Shewchuk, S. Shaikh, C. Phillips and L. Bridges (2017)RARα/RXR synergism potentiates retinoid responsiveness in cutaneous T-celllymphoma cell lines. Experimental Dermatology 26:1004-1011
Holt, A., D. Martin, P. Shaver, S. Adderley, J. Stone, C.Joshi1, J. Francisco, R. Lust, D. Widener, B. Shewchuk and D. Tulis (2016)Soluble guanylyl cyclase-activated cyclic GMP-dependent protein kinase inhibits arterial smooth muscle cell migration independent of VASP-serine 239 phosphorylation. Cellular Signaling 28:1364-79.
Shewchuk, B. Epigenetics and Obesity. In D. Yasui, J. Peedicayil and D. Grayson (Eds.), Neurobehavioral Disorders and Epigenetics. 2016Academic Press. Amsterdam, NL: Elsevier.
Maples, J., J. Brault, C. Witczak, S. Park, M. Hubal, T.Weber, J. Houmard and B. Shewchuk (2015) Differential Epigenetic and Transcriptional Response of the Skeletal Muscle Carnitine Palmitoyltransferase1B (CPT1B) Gene to Lipid Exposure with Obesity. AJP Endocrinology & Metabolism, 309:E345-56.
Maples, J., J. Brault, B. Shewchuk, C. Witczak, M. Hubal, T. Weber and J. Houmard (2015) Lipid exposure elicits differential responses in gene expression and DNA methylation in the skeletal muscle of obese individuals. Physiological Genomics, 47:139-46.
Shewchuk, B. (2014) Prostaglandins and n-3 polyunsaturated fatty acids in the regulation of the hypothalamic-pituitary axis. Prostaglandins, Leukotrienes and Essential Fatty Acids 91:277-287.
B. Patel, F. Yao, A. Howenstine, R. Takenaka, J. Hyatt, K. Sears and B. Shewchuk (2020) Emergent Coordination of the CHKB and CPT1B Genes in Eutherian Mammals: Implications for the Origin of Brown Adipose Tissue. Journal of Molecular Biology doi.org/10.1016/j.jmb.2020.09.022.